ISCO Member of Council for China, Mr Li Guobin is the General Manager of Sunic-Ocean and strongly believes in ISCO's aims and objectives. He is continuing to give his dedicated support to developing ISCO in China. As a sponsor of the Oil Spill Response Workshop that took place last month, he provided ISCO with exhibition space and ensured that the organisation was properly introduced to delegates attending the event.
Picture: Opening remarks from Chairman Dr. Michael O' Brien Technical Team Manager ITOPF
The 12 December, 2012 Oil Spill Response Workshop was held at the Marco Polo Parkside Hotel, Beijing. Nearly two hundred domestic and foreign experts, scholars and officials from China State Oceanic Administration, China MSA, CNPC, CNOOC, Sinopec, Chevron, Extreme Spill Technology (Canada), Oil Spill Response Ltd. (Singapore), COES Limited, Safety & Environment Emergency Technology Research Institute of CNPC, Sunic-Ocean Marine Technical & Service Co., Ltd, Shanghai Dong'an Water Pollution Prevention Center Co., Ltd, Vikoma International Ltd, and many other attended the event.
The seminar brought together government departments, industry research institutions, technological solutions and equipment providers, and oil spill response organizations (ORSOs) to have an in-depth discussion on finding a better solution to the common issues faced by all the oil spill relevant parties. The conference covered the latest oil spill technology, emergency management methods, solutions and typical cases. Interspersed with panel discussions, quizzes and other interactive activities. Participants had opportunities to debate with speakers and panelists in discussing the root causes of oil spills and addressing subjects ranging from emergency response technologies and management to a complete comprehensive solution for the clean-up of spills. Along with the meeting a technology exhibition held outside the conference hall showcased the latest technologies and equipment for oil spill monitoring, detection, and recovery. As one of the sponsors of the workshop Sunic-Ocean set up a booth which displayed Sunic's technologies from oil spill surveillance detection to spill recovery as well as the introduction information of ISCO just at the entrance of exhibition area. During the coffee breaks and other free times of the workshop ISCO Deputy Representative Mr.Robin Kuang actively introduced the detailed information to every participant who was interested in ISCO while his colleagues vice general manager Mr. Xupeng, manager of the System Integration Department, Mr. Liurun and sales engineer Mr. Wangjun presented Sunic's information materials and explained Sunic's oil spill response solutions to participants.
Picture (below): Mr. Zhang Guangming,left and Robin Kuang posed beside ISCO banner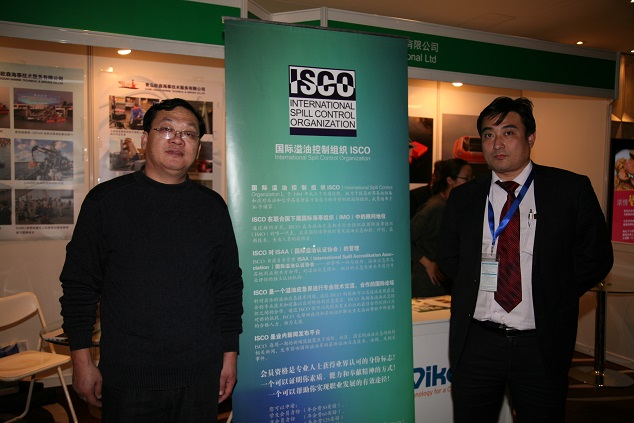 A more complete report can be found in ISCO Newsletter 367 published on 14 January 2013.