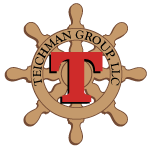 Website address: https://teichmangroup.com
Phone Number: 1-409-744-1222
In 1957, after serving in the U.S. Army and working for numerous companies, including Marine Machine Works and Toddy Shipyard as a machinist, Rudy Teichman established T&T Marine Ways, Inc., a small shipyard on the end of Teichman point.
The business consisted of a dock for working on small vessels, a machine shop and small dredge.
Later, a marine railway was built to perform dry repairs on small vessels. In 1960, Rudy bought a wooden tug names "Josephine". He re-floated and rebuilt the vessel to provide towing services in the area.
Hurricane Carla struck Galveston in 1961, destroying the shipyard. Rudy started over and by 1964 he was expanding again, hiring more employees and building bigger, better facilities and vessels.
Recognizing the need for salvage equipment along the Texas Coast, Rudy started T&T Marine Salvage, Inc. Using little more than ingenuity and experience, he raised sunken boats and barges.
In 1976, he bought a stream crane with a capacity of seventy-five tons for heavy lift work. Today, T&T owns and operates a wide assortment of equipment, providing a wide range of services including OPA 90 Response, Salvage and Marine Firefighting Services.
With over 40 locations in the United States and its territories, operational bases in South America, Europe and Asia, Teichman Group has strategically positioned offices and alliances across the globe to provide a full range of maritime services and emergency response solutions.
T&T owns state of the art portable equipment capable of being dispatched anywhere in the world on a moment's notice. The equipment is packaged so it can be easily transported by air, land or sea. Of course, people are our most important asset.
With more than 600 professionals on call, Teichman Group is a collection of world renowned Incident Command Personnel, Salvage Masters, Master Mariners, Marine Engineers, Naval Architects, Diving experts, Firefighting experts, Lightening experts, Heavy Lift experts, Spill Response