Can-Ross Environmental Services Ltd.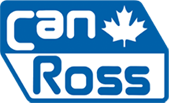 Website address: https://www.canross.com/
Phone Number: (905) 847-7190
Can-Ross Environmental Services Ltd. is a leading provider of spill control and containment products and assessments in Canada, in business since 1985. Serving the most dynamic businesses in the country, we provide security and peace of mind by identifying spill risks and providing practical and effective solutions to those risks.
Our products contain and clean-up even the most challenging oil and chemical spills.
Examples of Can-Ross's industry-leading spill control products are:
Absorbent Booms, Pads, and Mats
Spill Kits and Smart Carts
Neutralizers
To get these products into the right hands – and fast – Can-Ross maintains an active sales force and distributes products to more than 400 outlets worldwide.
With our head office in Oakville, Ontario and our nationwide distribution network we are able to maintain one of the largest spill control product inventories and meet demanding industry needs.
In addition, Can-Ross offers consultation services to help facilities prepare for potential spills.
We are dedicated to preserving our leadership role in the growing environmental industry and continue setting high industry standards by providing superior spill control products and one-of-a-kind assessments.